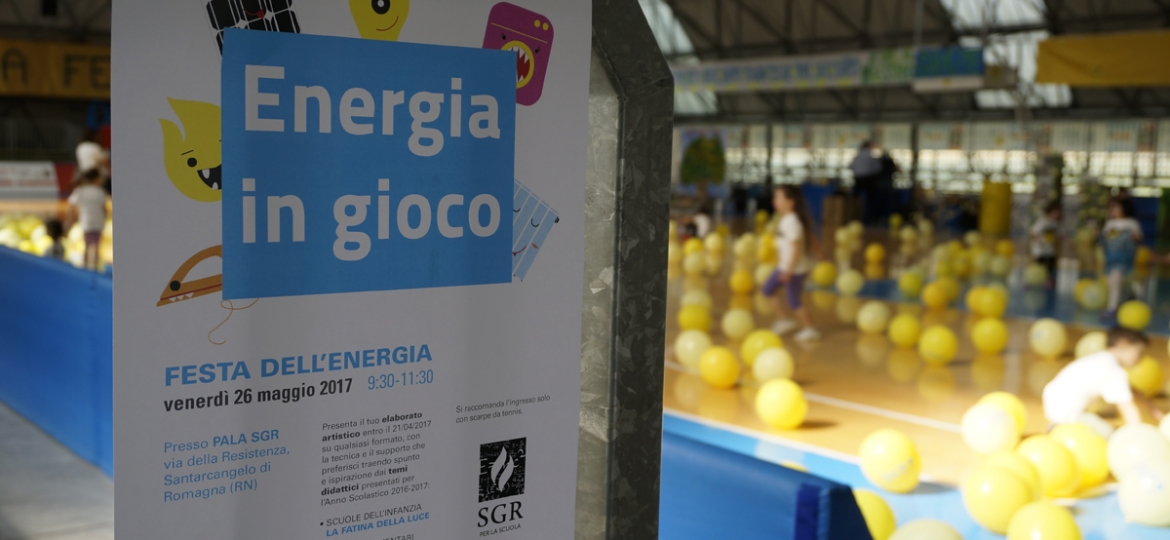 THE FINAL APPOINTMENT FOR THE SCHOOLS THAT TOOK PART TO THE EDUCATIONAL PROJECTS PROPOSED BY SGR
This morning, Friday the 26th of May at the PALA SGR – the Sport Building in Santarcangelo, took place the SGR "Great Energy Party", a final appointment for the schools of the territory that have took part to the educational projects proposed by the Group for the academic year 2016/2017 that has been included in the Industrial and Enterprise Values Festival of Confindustria Romagna, scheduled to the 28th of June in the business of Rimini and Ravenna.
During the Party that started at 9.30 am and finished at around noon, there has been time for everything: music, line dancing, games, snacks, entertainment, prize for the compositions and the works presented and institutional moments.
Several hundreds of children, young people, teachers and professors have participated to the event.
The project Energia Ia O is addressed to the pre-school and is a educational initiative that has a dual aim: to bring young children to know about energy as a force that can illuminate, move and warm and to contribute as business of the territory to support school activities through a supply of school material: at present the pre-schools visited are 152, the book donated are 6.800 and the children involved in playful and educational activities with the Light Fairy are 10.300.
The meaning of the educational project MY FOOD IS is to introduce to the participants the products of our territory under the guide of who produces them, knows their taste and their characteristics. Approximately 4.800 children from the primary school and the pre-school (5 years) adhered to this project.
The meetings with the schools always happened on the Thursday morning at the same time of the market of agriculture products that takes place in the SGR forecourt that for this occasion becomes an open-air classroom where children can play and in the same time be made aware to the concepts of farm-to-table fruit and vegetables.
HOUND AND DEFENDER – THE FRIENDS OF SAFE GAS is a course of awareness on gas and security addressed to the secondary schools and realised together with the provincial fire department in Rimini that provides playful and educational activities and guided tour to the emergency resources. More then 7.400 students have taken part to the project.